gmtlogo¶
Plot the GMT logo
Synopsis¶
gmt logo [ -D[g|j|J|n|x]refpoint[+hheight|+wwidth][+jjustify][+odx[/dy]] ] [ -F[+cclearances][+gfill][+i[[gap/]pen]][+p[pen]][+r[radius]][+s[[dx/dy/][shade]]] ] [ -Jparameters ] [ -Jz|Zparameters ] [ -Rwest/east/south/north[/zmin/zmax][+r][+uunit] ] [ -S[l|n|u] ] [ -U[stamp] ] [ -V[level] ] [ -X[a|c|f|r][xshift] ] [ -Y[a|c|f|r][yshift] ] [ -ttransp ] [ --PAR=value ]
Description¶
This module plots the GMT logo on a map. By default, the GMT logo is 144 points (2 inches wide) and 72 points (1 inch) high and will be positioned relative to the current plot origin. Use various options to change this and to place a transparent or opaque rectangular map panel behind the GMT logo.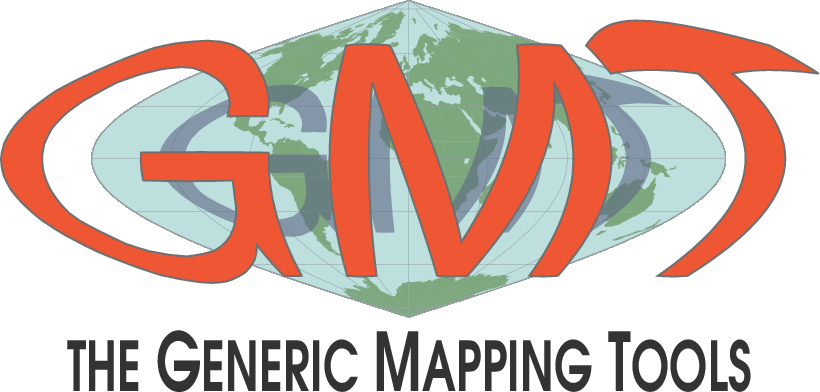 Required Arguments¶
None.
Optional Arguments¶
-F[+cclearances][+gfill][+i[[gap/]pen]][+p[pen]][+r[radius]][+s[[dx/dy/][shade]]]
Without further options, draws a rectangular border around the GMT logo using MAP_FRAME_PEN. The following modifiers can be appended to -F, with additional explanation and examples provided in the The background panel cookbook section:
For perspective view -p, optionally append /zmin/zmax. (more …)
Examples¶
Note: Since many GMT plot examples are very short (i.e., one module call between the gmt begin and gmt end commands), we will often present them using the quick modern mode GMT Modern Mode One-line Commands syntax, which simplifies such short scripts.
To plot the GMT logo of a 144-point width as a stand-alone pdf plot, use:
To append a GMT logo overlay in the upper right corner of the current map, but scaled up to be 6 cm wide and offset by 0.25 cm from the border, try:
gmt

 

begin

 

map
gmt

 

...<plot

 

the

 

map

 

using

 

-R

 

-J>
gmt

 

logo

 

-DjTR+o0.25c+w6c
gmt

 

end

 

show