GMT C API¶
Introduction¶
Preamble¶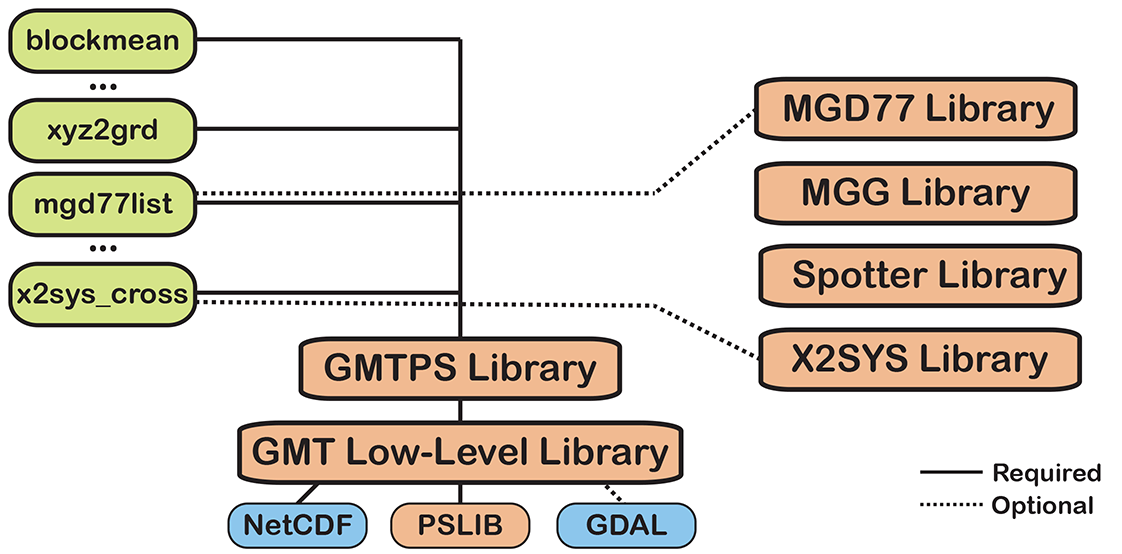 Prior to version 5, the bulk of GMT functionality was coded directly in the standard GMT C program modules (e.g., surface.c, grdimage.c, etc.). The GMT library only offered access to low-level functions from which those high-level GMT programs were built. The standard GMT programs have been very successful, with tens of thousands of users world-wide. However, the design of the main programs prevented developers from leveraging GMT functionality from within other programming environments since access to GMT tools could only be achieved via system calls [1]. Consequently, all data i/o had to be done via temporary files. The design also prevented the GMT developers themselves from taking advantage of these modules directly. For instance, the tool legend needed to make extensive use of system calls to plot and text in order to plot the lines, symbols and text that make up a map legend, making it a very awkward program to maintain.

Starting with GMT version 5, all standard GMT programs have been rewritten into separate function "modules" invoked by a single driver program called gmt.c. The gmt executable simply calls the corresponding GMT modules; it is these modules that do all the work. These new functions have been placed in a new GMT high-level API library and can be called from a variety of environments (C/C++, Fortran, Julia, Python, MATLAB, Visual Basic, R, etc.) [2]. For example, the main program blockmean.c has been reconfigured as a high-level function GMT_blockmean(), which does the actual spatial averaging and can pass the result back to the calling program (or write it to file). The previous behavior of blockmean.c is achieved by calling gmt blockmean, i.e., the module is now just the first argument to the gmt executable. For backwards compatibility with older GMT (4) scripts we optionally install numerous symbolic links to the gmt executable with names such as blockmean, plot, surface, etc. The gmt executable is smart enough to understand when it is being invoked via one of these links and then knows which module to call upon. Consequently, blockmean.c and other files do in fact no longer exist.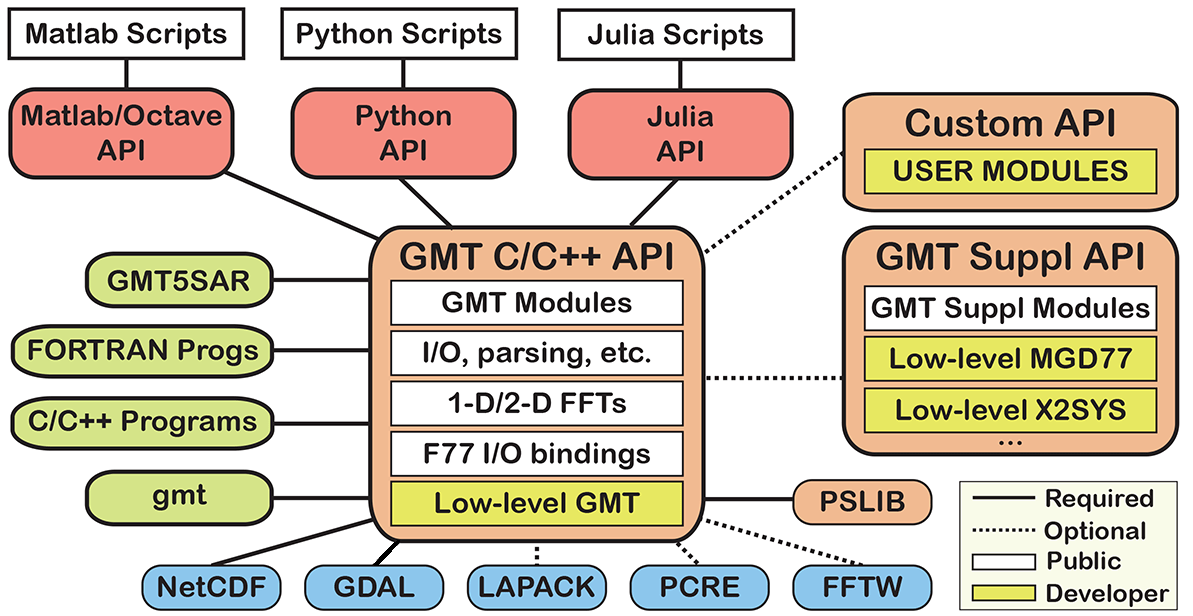 The i/o abstraction layer¶
In order for the API to be as flexible as possible we have generalized the notions of input and output. Data that already reside in an application's memory may serve as input to a GMT module and we refer to such data as "Virtual Files". Other sources of input may be file pointers and file descriptors (as well as the standard mechanism for passing file names). For standard data table i/o, the GMT API takes care of the task of assembling any combination of files, pointers, and memory locations into a single virtual data set from which the GMT module may read (a) all records at once into memory, or (b) read one record at a time. Likewise, GMT functions may write their output to a virtual destination, which might be a memory location in the user's application (another Virtual File), a file pointer or descriptor, or an output file. The GMT modules are unaware of these details and simply read from a "source" and write to a "destination". Thus, the standard concept of file-based input/output so familiar to any GMT user carries over to the API, except for the generalization that files can be virtual files already in memory. Because of this design we will see that we need to associate these virtual files with special filenames that we may pass to modules, and the modules will faithfully treat these as real files. However, under the hood the API layer will take care of the differences between real and virtual files.
Users who wish to maintain their own data types and memory management can also use the GMT modules, but some limitations and requirements do apply: The user's data can either be provided as (1) a 2-D matrix (of any data type, e.g., float, integer, etc.) and in any memory layout configuration (e.g., row-major or column-major layout) or as (2) a set of column vectors that each may be of any type. These custom arrays will need to be hooked onto the GMT containers GMT_MATRIX and GMT_VECTOR, respectively. Such objects can then be treated as virtual files for either input of output.
Our audience¶
Here, we document the new functions in the GMT API library for application developers who wish to call these functions from their own custom programs. At this point, only the new high-level GMT API is fully documented and intended for public use. The structure and documentation of the under-lying lower-level GMT library is not finalized. Developers using these functions may risk disruption to their programs due to changes we may make in the library in support of the GMT API. However, developers who wish to make supplemental packages to be distributed as part of GMT will (other than talk to us) probably want to access the entire low-level GMT library as well. It is unlikely that the low-level library will ever be fully documented.
There are two classes of development that users can pursue:
Building stand-alone custom executables that link with the shared GMT API. Our examples in this documentation are of this kind. There programs are likely to address a user's special data formats or processing needs by leveraging high-level GMT modules to do some of the heavy lifting.

Building shared library plugins to extend the breath of GMT. Users who wish to build one or more new modules and distributed then via a plugin that is dynamically loaded at run-time can now do so. At the present, all the modules in the official GMT supplement are compiled into a single plugin that can be accessed at run-time. Similarly, developers may add additional plugin libraries with any number of GMT-like modules and these will then be available from the gmt command (as well as from derived interfaces such as the GMT/MATLAB toolbox and the Python module). An example of plugin development is given by the GSFML extension to GMT.
Definitions¶
For the purpose of this documentation a few definitions are needed:
"Standard GMT program" refers to one of the traditional stand-alone command-line executables known to all GMT users, e.g., blockmean, plot, grdimage, etc. Prior to version 5, these were the only GMT executables available. In GMT 5 and up, these are accessed via the gmt executable.

"GMT module" refers to the function in the GMT API library that is responsible for all the action taken by the corresponding standard GMT program. All such modules are given the same names as the corresponding programs e.g., "blockmean", but are invoked via the GMT_Call_Module function.

"GMT application" refers to a new application written by any developer. It uses the API, perhaps for custom i/o, and may call one or more GMT functions to create a new GMT-compatible executable.

"GMT plugin library" refers to a collection of one or more new custom GMT-like modules that are presented as a plugin library. It such libraries are placed in the official GMT plugin directory or their path is added to the GMT defaults parameter GMT_CUSTOM_LIBS then the gmt executable can find them.

"Family" refers to one of the many high-level GMT data types (e.g., grids, CPTs) and is typically a required argument to some API functions.

"Method" refers to one of several ways in which data can be read or written in the API, including from existing memory variables.

"Direction" is typically either GMT_IN (for reading) or GMT_OUT (for writing).

In the API description that follows we will use the type int to mean a 4-byte integer. All integers used in the API are 4-byte integers with the exception of one function where an 8-byte integer is used. Since different operating systems have their own way of defining 8-byte integers we use C99's int64_t for this purpose; it is guaranteed to yield the correct type that the GMT function expects.
In version 5, the standard GMT programs are themselves simple invocations of the gmt application with the function name as argument. However, some of these modules, such as legend, gmtconvert, grdblend, grdfilter and others may call several additional modules.
API changes from GMT5 to GMT 6¶
The API released with GMT5 was considered experimental as our usage of it in GMT proper as well as in the GMT/MATLAB toolbox and the GMT/Python package would undoubtably lead to revisions. We developed API to enable GMT access from other environments hence we want the library to address the needs of such developers. Here are the changes in the GMT 6 API that are not backwards compatible with GMT 5:
There is no longer a GMT_TEXTSET resource. Data records are now generalized to contain an optional leading numerical array followed by an optional trailing text. A "TEXTSET" in this context is simply a DATASET that has no leading numerical array. This change was necessary so that all modules reading tables expect the same fundamental GMT_DATASET resource. The alternative (which we lived to regret) was that developers calling modules from their environment would have to format their data in different ways depending on the module, and in some case depending on module options. Now, all table modules expect GMT_DATASET.

The function GMT_Alloc_Segment no longer takes the family of the segment (since there are now only DATASET segments) but the family variable has been reused as a mode which is passed as either GMT_WITH_STRINGS or GMT_NO_STRINGS so that data segments can be allocated with or without the optional string array.

We introduce a new structure GMT_RECORD which is used by GMT_Get_Record and GMT_Put_Record. Because such records may have both leading numerical columns and a trailing string these functions needed to work with such a structure rather than either an array or string.

The unused function GMT_Set_Columns needed to accept direction so it could be used for either input or output. It is rarely needed but some tools that must only read N numerical columns and treat anything beyond that as trailing text (even if numbers) must set the fixed input columns before reading. We also added one more mode (GMT_COL_FIX_NO_TEXT) to enforce reading of a fixed number of numerical columns and skip any trailing text.

The GMT_DATASET structure has gained a new (hidden) enum GMT_enum_read type which indicates what record types were read to produce this dataset (GMT_READ_DATA, GMT_READ_TEXT, GMT_READ_MIXED). We also changed the geometry from unsigned int to enum GMT_enum_geometry.

The long obsolete enums GMT_READ_DOUBLE and GMT_WRITE_DOUBLE have now fully been removed; use GMT_READ_DATA and GMT_WRITE_DATA instead.

The GMT_Convert_Data function's flag array is now of length 2 instead of 3 (because there are no longer any TEXTSET settings), with what used to be flag3 now being given as flag2.
GMT resources¶
The GMT API knows how to create, duplicate, read and write six types of data objects common to GMT operations: Pure data tables (ASCII or binary), grids, images, cubes, color palette tables (also known as CPT), PostScript documents, and text tables (ASCII, usually a mix of data and free-form text). In addition, we provide two data objects to facilitate the passing of simple user arrays (one or more equal-length data columns of any data type, e.g., double, char) and 2-D or 3-D user matrices (of any data type and column/row organization). We refer to these data types as GMT resources. There are many attributes for each of these resources and therefore we use a top-level structure for each object to keep them all within one container. These containers are given or returned by GMT API functions using opaque pointers (void *). Below we provide a brief overview of these containers, listing only the most critical members. For complete details, see Appendix A. We will later present how they are used when importing or exporting them to or from files, memory locations, or streams. The first six are the standard GMT objects, while the latter two are special data containers to facilitate the passing of user data in and out of GMT modules. These resources are defined in the include file gmt_resources.h; please consult this file to ensure correctness in case the documentation is not up-to-date. Note than in all instances the fundamental data variable is called "data".
Overview of the GMT C Application Program Interface¶
Users who wish to create their own GMT application based on the API must make sure their program goes through the steps below. The details for each step will be revealed in the following chapter. We have kept the API simple: In addition to the GMT modules, there are only 57 public functions to become familiar with, but most applications will only use a very small subset of this selection. Functions either return an integer error code (when things go wrong; otherwise it is set to GMT_NOERROR (0)), or they return a void pointer to a GMT resource (or NULL if things go wrong). In either case, the API will report what the error is. The layout here assumes you wish to use virtual files as input sources (i.e., data you already have in memory); if the data must be read from actual data files then things simplify considerably.
To keep things as simple as possible we will assume you are writing an application that will read in table data, call a module using the data in memory as input, and then save the output from the module back into another memory location. No actual processing of the data or further calculation will be done here (so a bit of a boring program, but the point is to develop something short we can test). Also, to keep the code short we completely ignore the return codes of the modules for now. We will call our program example1.c. Here are the steps:
Initialize a new GMT session with GMT_Create_Session, which allocates a hidden GMT API control structure and returns an opaque pointer to it. This pointer is a required argument to all subsequent GMT API function calls within the session.

Read a data set (or grid, etc.) into memory with GMT_Read_Data, which, depending on data type, returns one of the data structures discussed earlier.

Associate your data with a virtual file using GMT_Open_VirtualFile. This steps returns a special filename that you can use to tell a module where to read its input. No actual file is created.

Open a new virtual file to hold the output using GMT_Open_VirtualFile. This step also returns a special filename for the module to send its output.

Prepare required arguments (including the two virtual file names) and call the GMT module you wish to use via GMT_Call_Module.

Obtain the desired output object via GMT_Read_VirtualFile, which returns a data structure of requested type.

Close the virtual files you have been using with GMT_Close_VirtualFile.

We terminate the GMT session by calling GMT_Destroy_Session.
The GMT C Application Program Interface¶
The GMT FFT Interface¶
While the i/o options presented so far lets you easily read in a data table or grid and manipulate them, if you need to do the manipulation in the wavenumber domain then this chapter is for you. Here, we outline how to take the Fourier transform of such data, perform calculations in the wavenumber domain, and take the inverse transform before writing the results. To assist programmers we also distribute fully functioning demonstration programs that takes you through the steps we are about to discuss; these demo programs may be used as your starting point for further development and can be found in the gmt-custom repository.
FORTRAN Support¶
FORTRAN 90 developers who wish to use the GMT API may use the same API functions as discussed in Chapter 2. As we do not have much (i.e., any) experience with modern Fortran we are not sure to what extent you are able to access the members of the various structures, such as the GMT_GRID structure. Thus, this part will depend on feedback and for the time being is to be considered preliminary and subject to change. We encourage you to take contact should you wish to use the API with your Fortran 90 programs.
FORTRAN 77 Grid i/o¶
Because of a lack of structure pointers we can only provide a low level of support for Fortran 77. This API is limited to help you inquire, read and write GMT grids directly from Fortran 77. To inquire about the range of information in a grid, use
int

 

gmt_f77_readgrdinfo

 

(

unsigned

 

int

 

dim

[],

 

double

 

limits

[],

 

double

 

inc

[],


                           

char

 

*

title

,

 

char

 

*

remark

,

 

const

 

char

 

*

file

)



where dim returns the grid width, height, and registration, limits returns the min and max values for x, y, and z as three consecutive pairs, inc returns the x and y increments, while the title and remark return the values of these strings. The file argument is the name of the file we wish to inquire about. The function returns 0 unless there is an error. Note that you must declare your variables so that limits has at least 6 elements, inc has at least 2, and dim has at least 4.
To actually read the grid, we use
int

 

gmt_f77_readgrd

 

(

float

 

*

array

,

 

unsigned

 

int

 

dim

[],

 

double

 

wesn

[],


                       

double

 

inc

[],

 

char

 

*

title

,

 

char

 

*

remark

,

 

const

 

char

 

*

file

)



where array is the 1-D grid data array, dim returns the grid width, height, and registration, limits returns the min and max values for x, y, and z, inc returns the x and y increments, and the title and remark return the values of the corresponding strings. The file argument is the name of the file we wish to read from. The function returns 0 unless there is an error. Note on input, dim[2] can be set to 1, which means we will allocate the array for you; otherwise we assume space has already been secured. Also, if dim[3] is set to 1 we will in-place transpose the array from C-style row-major array order to Fortran column-major array order.
Finally, to write a grid to file you can use
int

 

gmt_f77_writegrd_

(

float

 

*

array

,

 

unsigned

 

int

 

dim

[],

 

double

 

wesn

[],

 

double

 

inc

[],


                        

const

 

char

 

*

title

,

 

const

 

char

 

*

remark

,

 

const

 

char

 

*

file

)



where array is the 1-D grid data array, dim specifies the grid width, height, and registration, limits may be used to specify a subset (normally, just pass zeros), inc specifies the x and y increments, while the title and remark supply the values of these strings. The file argument is the name of the file we wish to write to. The function returns 0 unless there is an error. If dim[3] is set to 1 we will in-place transpose the array from Fortran column-major array order to C-style row-major array order before writing. Note this means array will have been transposed when the function returns.
External Interfaces¶
Developers may want to access GMT modules from external programming environments, such as MATLAB, Octave, Julia, Python, R, IDL, etc., etc. These all face similar challenges and hence this section will speak in somewhat abstract terms. Specific language addressing the challenges for some of the above-mentioned environments will follow below.
The C/C++ API for GMT makes it possible to call any of the ~100 core modules, the 40 or so supplemental modules, and any number of custom modules provided via shared libraries (e.g., the gsfml modules). Many of the external interfaces come equipped with methods to call C functions directly. The key challenges pertain to specifying the input to use in the module and to receive what is produced by the module. As we know from GMT command line usage, all GMT modules expect input to be given via input files (or stdin, except for sources like grids and images). Similarly, output will be written to a specified output file (or stdout if the data type supports it). Clearly, external interfaces could do the same thing. The problem is that most of the time we already will have the input data in memory and would prefer the output to be returned back to memory, thus avoiding using temporary files. Here, we will outline the general approach for using the GMT API. We will describe a relatively low-level approach to calling GMT modules. Once such an interface exists it is simpler to build a more flexible and user-friendly layer on top that can handle argument parsing in a form that makes the interface seem more of a natural extension of your external environment than a forced fit to GMT's command-line heritage. Before we describe the interface it is important to understand that the GMT modules, since the beginning or time, have done the i/o inside the modules. While these steps are helped by i/o library functions, the i/o activities all take place inside the modules. This means that external environments in which the desired input data already reside in memory and the desired results should be returned back to memory pose a trickier challenge. We will see the solution to this involves the concept of virtual files.

Plain interface¶
While the syntax of your external environment's language will dictate the details of the implementation, we will in general need to build a function (or class, or method) that allows you to issue a call like this:
[results] = gmt (module, options, inputs)
where results (i.e., objects returned back to memory) is optional and may be one or more items grouped together, depending on language syntax. If no output is required then no left-hand side assignment will be present. Likewise, inputs is optional and may be one or more comma-separated objects present in memory. In most cases, options will be required and this is a string with options very similar to the arguments given on the GMT command line. Finally, module is required since you must specify which one you want to call. The coding of the gmt method, class, or function above may be written entirely in C, partly in C and the external scripting language, or entirely in the scripting language, depending on restrictions on what needs to be done and where this is most easily accomplished. How this is accomplished may vary from environment to environment.

Data containers¶
The external interface developer will need to create native data classes or structures that are capable of containing the information associated with the six GMT objects: data tables, grids, images, cubes, color palette tables, and PostScript documents. In other words, how your external environment will represent these data in memory. Some of these "containers" may already exist, while others may need to be designed. Most likely, you will end up with a set of six containers that can hold the various GMT data objects and related metadata. In addition, it may be convenient to also consider the two GMT helper objects MATRIX and VECTOR, which may be closer to the native representation of your data than, for instance, the native GMT_DATASET.
Input from memory¶
Whether input comes from memory or from external files, the call to a GMT module is the same: we have to specify filenames to provide the input data. Thus, the game is to provide virtual file names that represent our in-memory data. The process is relatively simple and may need to be done in a snippet of C code that can be called by a function written in your environments scripting language. The steps go like this:
Create a GMT C container marked for input and copy or reference your data provided by your external environment into this container.

Open a virtual file using this container to represent the input source.

Insert this virtual file name in the appropriate location in the GMT option string. If the module imports data from stdin then we can use the hidden option -<filename.
When the GMT module is run it will know how to make the connections between the virtual file names and the actual data via information stored inside the C API. When the module completes you should close any open virtual files that were used by the module.
Output to memory¶
As the case for selecting input, GMT modules only know about writing results to a file (or stdout). Hence, we must follow the same paradigm as we did for input and identify virtual files to represent the output destinations. The steps are:
Create an empty GMT C container of the right type marked for output.

Create a virtual file name to represent this output destination.

Place this file name in the appropriate location in the GMT option string. If the module exports data to stdout then we can use the hidden option ->filename.
When the GMT module is run it will know how to make the connections between the memory allocated by the module and the virtual file names stored inside the C API. Once the module call has completed you can access the results in the external environment by using GMT_Read_VirtualFile with the virtual filename you created earlier. This will return a GMT C container with the results, and you can now populate you external data containers with data produced by the GMT module.
The magic of knowing¶
External developers have access to the two extra API functions GMT_Encode_Options and GMT_Expand_Option. Your gmt will need to call GMT_Encode_Options to obtain information about what the selected module expects, what its options are, which were selected, and what data types are expected. It may possibly modify the options, such as adding the filename "?" to options that set required input and output files and returns an array of structures with specific information about all inputs and outputs. If sources and destinations were missing from your options string it is taken to mean that you want to associate these sources and destinations with memory locations rather than actual files. The second function GMT_Expand_Option can then then used to replace these place-holder names with the virtual filenames you created earlier.
The MATLAB interface¶
We have built a MATLAB/Octave interface to GMT called the toolbox. It was our first attempt to use the C API from an external environment and its development influenced how we designed the final GMT C API. MATLAB represents most data as matrices but there are also structures that can hold many different items, including several matrices and text strings. Thus, we designed several native mex structures that represent the six GMT objects. The main gmt function available in MATLAB derives from a small MATLAB script (gmt.m) which handles basic argument testing and then passes the arguments to our C function gmtmex.c. Most of the high-level parsing of options and arguments is done in this function, but we also rely on a C library (gmtmex_parser.c) that hides the details of the implementation. It is this library that does most of the work in translating between the GMT and MATLAB object layouts. Knowing what types are represented by the different sources and destinations is provided by the array of structures returned by GMT_Encode_Options.
The Julia interface¶
Unlike the MATLAB interface, the Julia interface GMT.jl is written entirely in the Julia language.
The Python interface¶
Unlike the MATLAB interface, the Python interface PyGMT is written entirely in the Python language.
Appendix A: GMT resources¶
We earlier introduced the six standard GMT resources (dataset, grid, image, cube, color palette table, PostScript) as well as the user vector and matrix. Here are the complete definitions of these structures, including all variables accessible via the structures.
Appendix B: GMT constants¶
To increase readability we have encoded many simple integer constants as named enum. These are listed in the tables below and used as flags to various API functions.
| constant | description |
| --- | --- |
| GMT_CHAR | int8_t, 1-byte signed integer type |
| GMT_UCHAR | int8_t, 1-byte unsigned integer type |
| GMT_SHORT | int16_t, 2-byte signed integer type |
| GMT_USHORT | uint16_t, 2-byte unsigned integer type |
| GMT_INT | int32_t, 4-byte signed integer type |
| GMT_UINT | uint32_t, 4-byte unsigned integer type |
| GMT_LONG | int64_t, 8-byte signed integer type |
| GMT_ULONG | uint64_t, 8-byte unsigned integer type |
| GMT_FLOAT | 4-byte data float type |
| GMT_DOUBLE | 8-byte data float type |

The known data types in the GMT API.
When GMT_Open_VirtualFile is used with a NULL pointer to create a virtual file for returning results from a GMT module and you are using a GMT_MATRIX or GMT_VECTOR as your container, you may prescribe the data type used for the underlying arrays. The constants below can be added to the direction argument in order to change the default data types [float for matrix and double for vector].
| constant | description |
| --- | --- |
| GMT_VIA_CHAR | Select GMT_CHAR as array type |
| GMT_VIA_UCHAR | Select GMT_UCHAR as array type |
| GMT_VIA_SHORT | Select GMT_SHORT as array type |
| GMT_VIA_USHORT | Select GMT_USHORT as array type |
| GMT_VIA_INT | Select GMT_INT as array type |
| GMT_VIA_UINT | Select GMT_UINT as array type |
| GMT_VIA_LONG | Select GMT_LONG as array type |
| GMT_VIA_ULONG | Select GMT_ULONG as array type |
| GMT_VIA_FLOAT | Select GMT_FLOAT as array type |
| GMT_VIA_DOUBLE | Select GMT_DOUBLE as array type |

Flags to select the type of arrays used in output GMT_MATRIX or GMT_VECTOR.