Session One¶
Tutorial setup¶
We assume that GMT has been properly and fully installed and that the GMT executables are in your executable path. You should be able to type gmt in your terminal and it will display the GMT splash screen with version number and the top-level options. If not then you need to work on your user environment, adding the path to the gmt executable to your search path.

All GMT man pages, documentation, and gallery example scripts are available from the GMT documentation web page. It is assumed these pages have been installed locally at your site; if not they are always available from https://docs.generic-mapping-tools.org.

We recommend you create a sub-directory called tutorial, cd into that directory, and run the commands there to keep things tidy.

As we discuss GMT principles it may be a good idea to consult the GMT Cookbook for more detailed explanations.

The tutorial data sets are distributed via the GMT cache server. You will therefore find that all the data files have a "@" prepended to their names. This will ensure the file is copied from the server before being used, hence you do not need to download any of the data manually. The only downside is that you will need an Internet connection to run the examples by cut and paste.

For all but the simplest GMT jobs it is recommended that you place all the GMT (and UNIX) commands in a shell script file and make it executable. To ensure that UNIX recognizes your script as a shell script it is a good habit always to start the script with the line #!/usr/bin/env bash or #!/usr/bin/env csh, depending on the shell you prefer to use. All the examples in this tutorial assumes you are running the Bourne Again shell, bash, and you will need to modify some of the constructs, such as i/o redirection, to run these examples under csh. We strongly recommend bash over csh due the ability to define functions.

Making a script executable is accomplished using the chmod command, e.g., the script figure_1.sh is made executable with "chmod +x figure_1.sh".

Please cd into the directory tutorial. We are now ready to start.
The GMT environment: What happens when you run GMT ?¶
To get a good grasp on GMT one must understand what is going on "under the hood". The GMT Run-Time Environment illustrates the relationships you need to be aware of at run-time.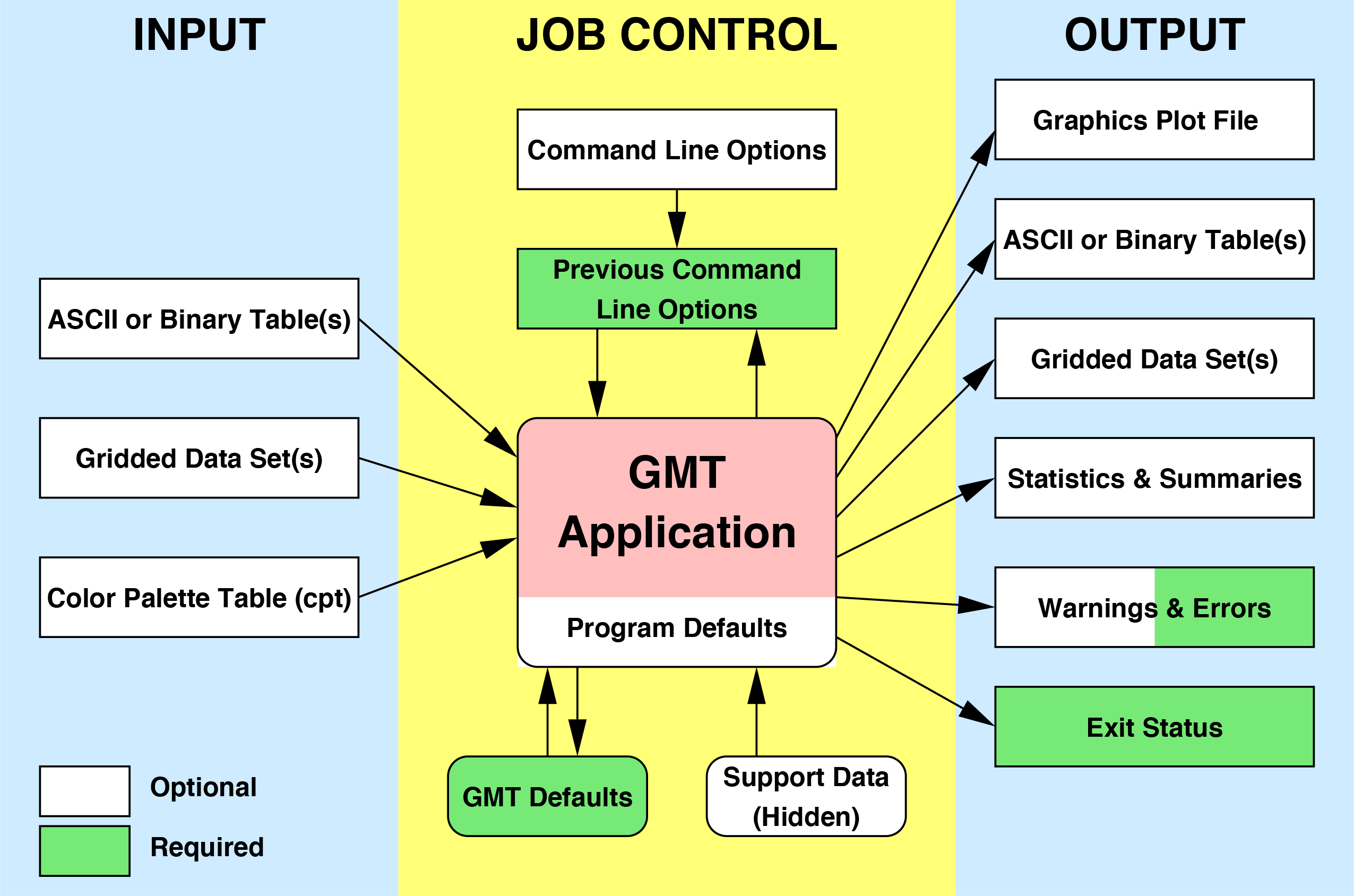 Input data¶
A GMT module may or may not take input files. Three different types of input are recognized (more details can be found in GMT File Formats):
Data tables. These are rectangular tables with a fixed number of columns and unlimited number of rows. We distinguish between two groups:

ASCII (Preferred unless files are huge)

Binary (to speed up input/output)

Such tables may have segment headers and can therefore hold any number of subsets such as individual line segments or polygons.

Gridded dated sets. These are data matrices (evenly spaced in two coordinates) that come in two flavors:

Grid-line registration

Pixel registration

You may choose among several file formats (even define your own format), but the GMT default is the architecture-independent netCDF format.

Color palette table (For imaging, color plots, and contour maps). We will discuss these later.
Job Control¶
GMT modules may get operational parameters from several places:
Supplied command line options/switches or module defaults.

Short-hand notation to select previously used option arguments (stored in gmt.history).

Implicitly using GMT defaults for a variety of parameters (stored in gmt.conf).

May use hidden support data like coastlines or PostScript patterns.
Output data¶
There are 6 general categories of output produced by GMT:
PostScript plot commands.

Data Table(s).

Gridded data set(s).

Statistics & Summaries.

Warnings and Errors, written to stderr.

Exit status (0 means success, otherwise failure).
Note: GMT automatically creates and updates a history of past GMT command options for the common switches. This history file is called gmt.history and one will be created in every directory from which GMT modules are executed. Many initial problems with GMT usage result from not fully appreciating the relationships shown in Figure GMT Environment .
The UNIX Environment: Entry Level Knowledge¶
Laboratory Exercises¶
We will begin our adventure by making some simple plot axes and coastline basemaps. We will do this in order to introduce the all-important common options -B, -J, and -R and to familiarize ourselves with a few selected GMT projections. The GMT modules we will utilize are basemap and coast. Please consult their manual pages for reference.